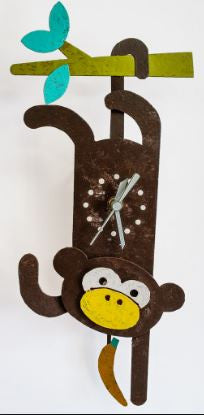 Brown Monkey Pendulum Wall Clock
This brown monkey pendulum wall clock will always tell you the right time. What a cutie! It even has a banana for the swinging pendulum. Made from metal and painted with bright and fun colors. Runs on one AAA battery.
Using fair trade principles, the artisans from impoverished communities in Colombia, South America who make this clock, are provided with a safe and fair working environment .  
Size: 5.00" W x 10.00" L x 1.75" D