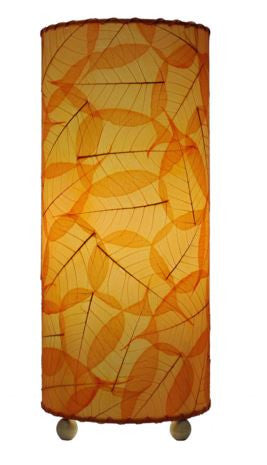 Orange Banyan Real Leaves, Fair-trade, Sustainable, Table Lamp
This gorgeous table lamp will make the perfect statement piece with its real leaves.
The Banyan Series is simple in shape which lets the eye focus on the stunning, heart-shaped banyan leaves.
The intricate layering of the leaves result in various shading and shadows to create the lamp's signature pattern. The lamp features fossilized banyan leaves that are handplaced onto a standard UL lampshade backing, laminated and formed into a cylinder shape.  The shade is handstitched onto a powder coated, wrought iron frame.
We recommend using either 1 compact florescent light (CFL) bulb or 1 LED bulb.
Size: 7.00" W x 16.50" H x 7.00" D