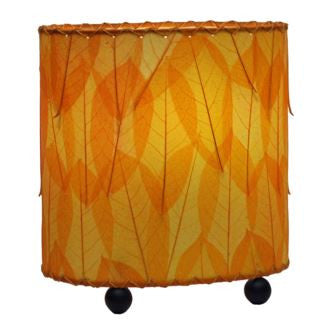 Orange Mini Guyabano Real Leaves, Fair-trade, Sustainable, Lamp
The Mini Guyabano table lamp is made from real leaves, sustainably made and fair-traded. It is small but provides a tremendous amount of light thanks to its oval shape. The exterior of the lamp highlights the beautifully placed guyabano leaves while the inside of the shade is wrapped in cocoa leaves to provide a high-quality finish. Features overlapping fossilized guyabano leaves that are hand-placed on a standard UL lamp backing and then laminated. The shade is hand-stitched onto a powder coated, wrought iron frame to form an oval design and uses wooden finials as feet. The upper interior of the lamp is finished with fossilized cocoa leaves.
We recommend using either 1 compact florescent light (CFL) bulb or 1 LED bulb.
Size: 9.00" W x 9.00" H x 5.00" D