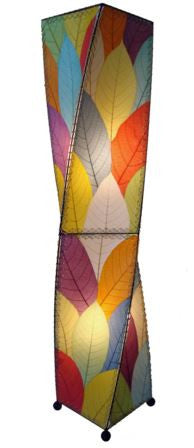 Multicolor Giant Twist, Real Leaves, Fair-trade, Sustainable, Floor Lamp
A statement piece, this floor lamp is made with real leaves and is fair-traded.
The Twist Series takes a classic cubed design and literally adds a twist.
Each side panel consists of broad, vertically placed cocoa leaves and rotates as it guides your eyes up the lamp from bottom to top.
We recommend using either 4 compact fluorescent  light (CFL) bulbs or 4 LED bulbs.
Size: 10.00" W x 48.00" H x 10.00" D