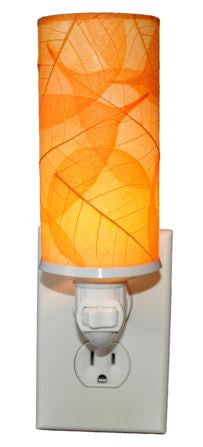 Orange Cylinder Real Leaves, Fair-trade, Sustainable, Night Light
The Cylinder Nightlight Series is simple in shape which lets the eye focus on the stunning, heart-shaped banyan leaves.
This nightlight adds an element of color while creating a hint of light in any space.
The nightlight features overlapping fossilized banyan leaves that are handplaced onto a standard UL lampshade backing, laminated and then adhered to a wrought iron frame to hold its shape.  The base of the nightlight has an on/off switch.
Uses one 4 watt nightlight bulb.
Size: 2.50" W x 7.00" H x 2.50" D